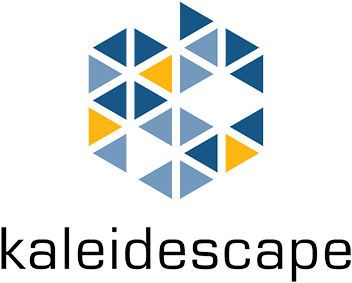 Kaleidescape products are designed to download, store, and playback movies and TV shows in full video fidelity with high-quality multichannel audio. In addition, Kaleidescape offers a massive library of movies, in up to 4K HDR, along with TV series, documentaries, concerts, and more. Both Blu-ray quality and 4K Ultra HD movies are available with lossless multichannel and object-based audio, including Dolby Atmos. So while Kaleidescape does not make projectors, they definitely make equipment that will enhance your home entertainment experience.
In this review, we will be talking about Kaleidescape's brand new Compact Terra 6TB (6 terabyte capacity) movie server. Kaleidescape sent Projector Reviews a demo system that included the Compact Terra 6TB movie server along with a Strato C movie player.
The Kaleidescape Compact Terra 6TB movie server is initially offered as a bundle with the Strato C movie player at a special price of $7,995 through March 31, 2022.
Projector Reviews purchased a 12TB Strato S last year for product reviews and shoot-outs since it provides the best content available, and the demo script feature creates a consistent demo experience allowing us to focus completely on the differences between projectors. To learn why we chose the Kaleidescape, check out our article titled "Maximize Your Theater's Performance With Kaleidescape".
The Strato S is a movie player that can playback content stored on its internal hard drive. The Strato S is a great one-room solution. Since the Strato S chassis contains a player and storage, it is larger than a Terra 6TB server or a Strato C player. A Strato S can also share content stored on its internal hard drive with a Strato C unit located in a second room via a wired home network.
For those looking for a multizone solution, a Terra movie server can support multiple Strato C players/clients throughout your home. Since the Strato C has no internal storage, it is more compact and less expensive than Stato S, but you'd need a Terra movie server for larger system configurations.
According to Kaleidescape CEO Tayloe Stansbury, "The Compact Terra 6TB server, when combined with a Strato C player, replaces the Kaleidescape Strato S as our entry-level system while providing the ultimate playback experience with significantly greater scalability and performance."
Take a look at Projector Reviews' Kaleidescape Strato System Review for additional details on the Kaleidescape Strato Movie Player + Server product assortment.
KALEIDESCAPE COMPACT TERRA 6TB MOVIE SERVER
The Kaleidescape Compact Terra is available with 6TB, 12TB, or 18TB of storage. We will be focusing on the new Compact Terra 6TB movie server that hit the shelves on January 4, 2022. The Compact Terra 6TB can store approximately 100 4K Ultra HD Movies and even more Blu-ray quality movies or DVD quality movies.
A Compact Terra 6TB server can serve up to five simultaneous 4K Ultra HD playbacks on Strato players in different rooms, compared to only two simultaneous playbacks for Strato S. High bandwidth combined with 10-bit color ensures even 4K HDR content at 60 fps is reproduced in the highest quality.
An enormous amount of content is available for purchase from Kaleidescape. Kaleidescape's movie store offers 4K Ultra HD titles with high dynamic range support and thousands of movies in full Blu-ray HD quality. The Compact Terra 6TB server delivers four times quicker movie downloads than the Strato S 6TB all-in-one player and server. Purchased content is downloaded and stored on the Compact Terra 6TB internal hard drive at up to 800 Mbps. At up to 800 Mbps, you can download a 4K HDR movie in as little as 10 minutes on a gigabit internet connection.
In addition, the Compact Terra server even has the ability to allow playback and download content at the same time, which is something Strato S cannot do.
As an added bonus, the end-user can easily increase their storage by adding another Compact Terra 6TB, a Compact Terra 12TB, or 18TB. You could also jump up to a full-sized Terra 24TB, 48TB, or 72TB if you required that amount of storage.
KALEIDESCAPE STRATO C MOVIE PLAYER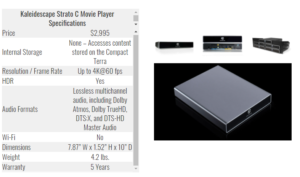 The Kaleidescape Strato C movie player plays movies from the Compact Terra's 6TB internal hard drive or another Kaleidescape movie server located in your home. To ensure maximum performance and quality, you will need to connect the Strato C player to the Compact Terra 6TB server via a wired network connection.
Since the Terra C does not include Wi-Fi functionality, the unit will need to be connected to your home network using its Ethernet port. However, I was able to find a workaround. I used a gigabit eero Pro 6 tri-band mesh Wi-Fi 6 router to connect the Strato C movie player located in my projector testing areas to the Compact Terra 6TB movie server located in my family room audio-visual cabinet.
Mind you, my projector testing areas and family room are nowhere near each other. With a total of three projector testing areas strategically placed throughout my home, it was a nice workaround using the eero Pro 6. There was no way I was running a CAT6 ethernet cable all across the house to test out the Kaleidescape system in the various areas.
The Kaleidescape Strato C movie player worked with the gigabit eero Pro 6. Utilizing the eero Pro 6 allowed me to place the Strato C anywhere I wanted without a direct hardwire to the Compact Terra 6TB movie server
The Strato C movie player is an excellent solution for those who want to distribute content from their downloaded Kaleidescape library to other home theater systems or displays in their home. Since the Strato C player does not have internal storage, it is even more compact than the Strato S player/server and less expensive.
The playback quality of the Strato C player is identical to the Strato S. The Strato C player supports 4K Ultra HD with frame rates up to 60 fps. In addition, the player provides upscaling of Blu-ray and DVD quality content to 4K resolution. The Strato C player offers seamless switching between 4K Ultra HD, 4K upscaled Blu-ray quality and DVD quality content. Lastly, the Strato C player supports High Dynamic Range (HDR) content and the latest immersive surround formats, including lossless multichannel audio, Dolby Atmos, Dolby TrueHD, DTS:X, and DTS-HD Master Audio.