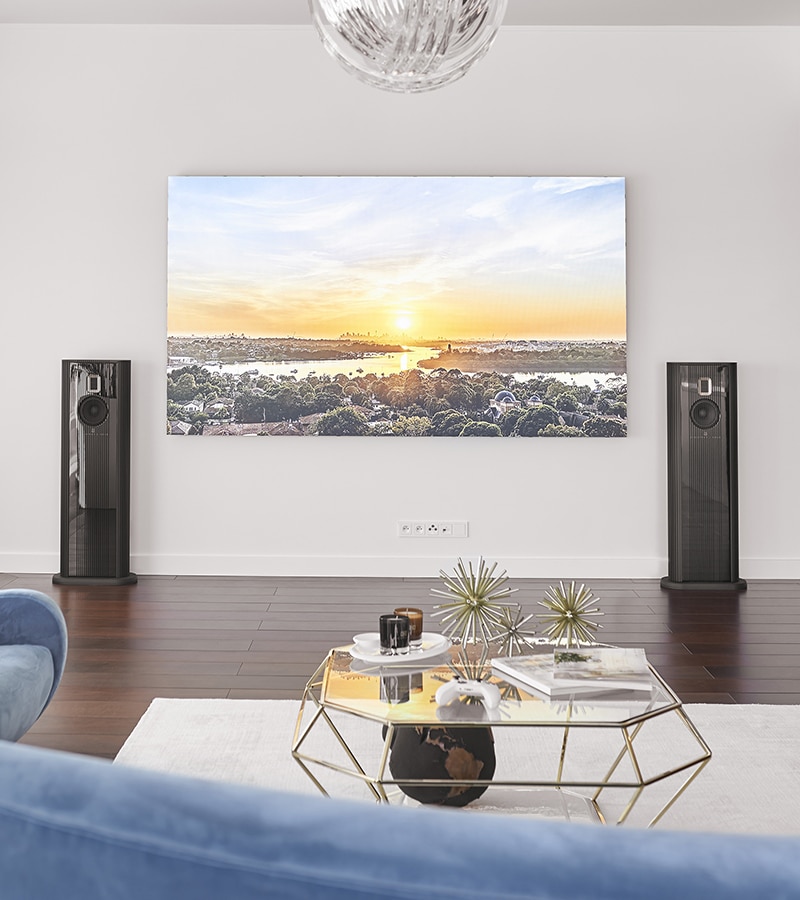 In 2005, audio innovator Peter Lyngdorf, on a mission to create absolute perfection in sound reproduction, founded a revolutionary sound system research and development company in Denmark. Lyngdorf brought to this new venture his experience in conceiving some of the most significant audio breakthroughs in history, including the world's first fully digital amplifier. In a re-imagining of digital acoustic compensation, RoomPerfect™ premiered the following year, together with a next-generation fully digital amplifier. With these foundations, the stage was set for a groundbreaking collaboration that would change the course of audio history.
Since 2005, Steinway Lyngdorf has been the pinnacle of the audio industry. Our name is, and always has been synonymous with impeccable craftsmanship and 21st century technologies
Designed, developed, and manufactured in Denmark, Steinway Lyngdorf sound systems are the only systems on the planet that are qualified to be manufactured in partnership with Steinway & Sons.
The partnership is based on an ambitious promise – that the Steinway Lyngdorf audio systems reproduce the sound of a Steinway & Sons grand piano to the degree that even seasoned concert pianists can not discern the difference.
Steinway and Sons are recognized for their world renowned reputation as " the" premium piano manufacturer going back to their inception in 1853. Highly regarded by virtually all concert pianists as best of class, these pianos are second to none as illustrated by the incredible sound signature that they deliver.
For many years Steinway and Sons had been approached by numerous speaker manufacturers to co-brand their products, but those interested parties were repeatedly turned away until 2007. This is the same year that Peter Lyngdorf met with them to discuss the possibility of his brand sharing that illustrious honour, as he promised that his audio company could reproduce the sound of a Steinway piano like no other audio company could. His mission was to build a specific speaker model that would challenge even the most discerning ear from distinguishing a Steinway piano playing live in a room vs his speaker in that same space.
Needless to say, this was the birth of the Steinway / Lyngdorf audio brand, and the release of the highly acclaimed Model D speaker. Two years prior to this Peter Lyngdorf established his acoustic engineering excellence in the development of the worlds first fully digital amplifier, and the launch of Lyngdorf Audio. Lyngdorf had established a reputation as a revolutionary research and development company, whose expertise in room acoustics escalated their products into world class accolades for their now highly touted "Room Perfect" technology. In 2009 Steinway / Lyngdorf released their first multichannel surround sound processor – the Model P1. Since then this world class brand has repeatedly introduced new and innovative technologies into the audio and cinema domain, and attracted the interest and appreciation of audio enthusiasts around the world.
Whether it be the Steinway /Lyngdorf series of products, or the Lyngdorf Audio family of products, this company has earned a reputation for high end transparency, accuracy and sonic purity that has very few at its side as legitimate challengers. From high end stereo components to full fledged surround sound processing, digital amplification and speaker deployment, this family of products has captured the interest and acceptance by many audio purists across the globe.